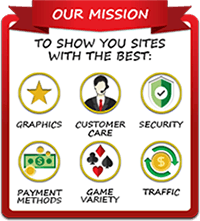 Let's cut to the chase here: Oz is a big place. And unless you're a sucker for expensive long-distance flights or gas-guzzling drives, chances are you've set foot in only one or two local brick 'n' mortar casinos (and by local, we could be talking anything from 50 to 200 miles away).
Thank heavens, then, for the online casino revolution.
In 2023, there are literally dozens and dozens of top Internet casinos available to players Down Under, and whether your game of choice is roulette, blackjack or pokies, there's a site for you.
Online gaming provides the perfect fix for gambling-mad Aussies like you - and you don't even have to leave the comfort of your front room or dunny (each to their own).