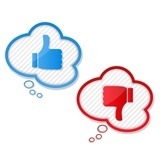 Has your introduction to top casino games come via a great online site, perhaps one recommended on these pages?
Are you venturing into online casinos on the web for the first time, having been a long-time visitor to any one of Australia's great land-based casinos like the Crown or Star City?
If the answer to either of those questions is 'yes' (chances are you won't be answering 'yes' to both questions), then you may be wondering who wins out in the battle of the casinos: land-based vs. Online.
Well, it's Seconds out, Round 1, as we look at the pros and cons of both equally valid options.