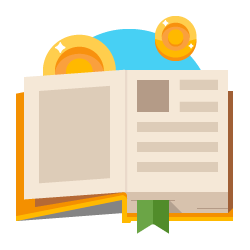 Action – the chance to take your turn or to make a decision. Fast paced aggressive games have a lot of action.
American Wheel – A roulette wheel that has both the "0" space and the "00" space on it. Odds are only half of the European and French wheels.
Ante – A bet that each player must make before the cards are ever dealt.
Any Craps – A single unit bet on 2, 3 or 12 that pays 7 to 1 in Craps.
Any Seven – A single bet on 7 for the next roll in Craps. Pays 4 to 1.
All-In – When you put all of your remaining chips into the bet pile, this usually occurs during poker.
Baccarat – A popular card game that puts you against the dealer. The goal is to get the highest number, a 9, while avoiding the lower numbers.
Backdoor Draw – A Texas Hold'em hand that requires two additional cards from the turn and the river to make a winning combination.
Bad Beat – When a player loses a large amount of money because of bad luck or a poor decision. This can cause the player to make poor decisions afterwards.
Bet – Money that you are risking on a particular hand or turn in the game you are playing. This determines what you are paid if you win.
Betting Round – All the wagers that take place once a set of cards are dealt. The dealing of the cards is said to start a new betting round.
Blackjack – A total of 21 points with the first two cards that you receive in the game.
Blinds – Bets that are made before any cards are dealt at all, this is very similar to an ante and used heavily in Texas Hold'em poker.
Bonus Game – When a secondary game is triggered in pokies that allows you to play for a side prize.
Bonus Poker – A video poker game that offers certain added bonuses for specific hand types.
Boxman – The employee of the casino in charge of the craps game.
Box Numbers – Also known as point numbers, 4, 5, 6, 8, 9 and 10
Column Bet – Betting on one of the three columns of 12 numbers in roulette, the bet pays out 2 to 1.
Come Bet – A bet that will win on a 7 or an 11 but loses on a 2, 3 or 12.
Come Out Roll – The initial roll of a new craps game.
Comps – Free services or complimentary points that casinos give out to regular players or high rollers. They are meant to reward the more profitable players of a casino.
Corner Bet – A roulette bet that is put at the intersection of any four numbers. Pays 8 to 1.
Crap – Slang for either a 2, 3 or 12 during craps.
Credit – A single betting unit, this is what you use at pokies machines online and in person.
Cut – Splitting the cards of a deck before any are dealt out to the players.
Deuces Wild Poker – A video poker game where 2's are always wild.
Don't Pass Bet – A bet during a player's come out roll that wins on a 2 or 3 and loses on a 7 or 11.
Double Bonus Poker – A popular video poker option variation that offers different bonuses for specific high value hands.
Double Down – To double the amount of money that you are betting on the hand or turn in the game.
Dozen's Bet – A bet on any 12 number group of numbers in roulette.
Draw – To add another card into your hand. Drawing is common in blackjack.
Early Surrender – An opportunity to get out of your blackjack hand for less money before the dealer checks his other card.
eCOGRA – A UK based organization that monitors online casinos and awards them with seals of approval after closely investigating the site to ensure that it's fair. Originally established by Microgaming.
En Prison – A European roulette option that can help improve your win rate while playing. It applies to all even-money bets.
European Wheel – A roulette wheel that has 37 spaces. It comes with slots for 1 to 36 and then a "0" slot.
Face Cards – The Jack through King cards. Each shows off a face in most standard decks of cards, unlike the Ace card.
Flash Casino – A casino that relies on Flash software to make games available instantly. Other instant-casino varieties are often called the same name, despite not using Flash technology at all.
Flush - A hand with five cards of the same suit.
Full House – A poker hand with a three of a kind and a pair.
Hard hand – A blackjack hand that doesn't include an Ace, it can only have one value.
Hit – Slang for winning in pokies or video poker, and for asking for another card in blackjack.
Hole Card – Any face down cards on the board or in the dealer's hand. You don't know what their values are, which keeps them from being useful to your decision making abilities.
House Edge - The percentage of money that the casino keeps after paying out prizes back to players. This is what makes casinos profitable and makes it an expense for most players.
Inside – Craps slang for 5, 6, 8 and 9
Inside Bet – Any roulette bet placed on inside numbers of the layout.
Insurance – Making a side wager that pays out if the dealer has 21 in blackjack. This can help you turn a loss into a win.
Jackpot – A large payout at a pokies machine, often the largest amount that can be won.
JoB – Jacks or better, a video poker term that means you need at least a pair of jacks or higher in order to win a prize.
Joker Poker – Video poker variations that has one wild in the game.
Keno – A game that's similar to bingo. You choose 10 to 15 numbers and then win money when the right combination is chosen. It uses a board like bingo, but also has some similarities to the lottery.
Late Surrender – A surrender in 21 that allows you to avoid losing your full bet later in the game. It's only allowed when the dealer does not have a blackjack.
Line Bet – A bet placed on the pass line in craps.
Outside – Craps slang for 4, 5, 9 and 10.
Max Bet – The highest amount that you can bet at a pokies or video poker machine.
Maximum Coins - Betting the highest amount per line on a pokies machine. Some machines offer special incentives when you bet 3 or 5 coins per line while you play.
Microgaming – A popular casino software developer known for making some of the most popular pokies games and for excellent mobile play support.
Multi-Line Game – A pokies machine that relies on more than a single pay line to determine whether a player wins or loses.
Natural – Two cards worth 21 in blackjack.
Natural Royal – A royal flush that doesn't rely on any wilds.
NETeller – An e-wallet service that allows you to transfer money from your bank to a digital storage device that you can use to fund your casino account with, as well as making other online purchases. The service also works for sending money from one person to another.
Pay Line – Pokies term that denotes an imaginary line where symbols have to line up to win you a prize.
Pay Table – The posted combinations and how much they will earn from a pokies game.
PlayTech – Another popular casino software developer known for pokies and mobile gaming as well. Offers a good range of table games as well.
Progressive Jackpot – A massive jackpot that grows larger with every person that plays the pokies game.
Push – A player and dealer tie in blackjack
Reels – The sections that rotate on a pokies game, originally physical barrels, now digital representations of them.
Scatter Symbol – A symbol that pays out every time it appears on a pokies reel, often used to unlock additional benefits on a game.
Shoe – The device that holds all the cards and takes care of dispensing them to the dealer.
Snake Eyes – Craps slang for a 2 with a 1 and 1 showing.
Soft Hand – A blackjack hand with an Ace, it can have two different values as you play.
Stiff Hand – A hand that is likely to bust from a single hit.
Street Bet – A single roulette bet on three specific numbers that pays out 11 to 1.
Royal Flush – A run from 10 to A that's all the same suit. The best hand that you can get in poker.
Straight – A run of five consecutive cards.
Straight Flush – A run of five cards that are the same suit.
Surrender – To give up in blackjack and only lose half your bet.
Upcard – The very first card the dealer is dealt in blackjack.
Volatility – The frequency of prizes and the size of prizes. High volatility means less frequent much larger prizes. Low volatility means more frequent smaller prizes.
Wild Royal – A royal flush that includes a wild in video poker.