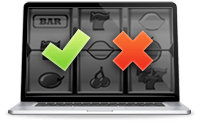 To download or not to download; that is the question.
With so much choice available to Aussie online players in 2023, it's hard to know what's best: download a big client to your desktop, or just play your favourite games via a web browser.
Both options have their various merits and pitfalls, but most big Internet casinos will give you a choice of either when you sign up.
So, which should you go for when you start your online casino journey? Let's take a look at the advantages and disadvantages of both.