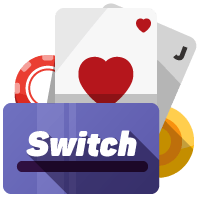 If you like playing multiple blackjack hands at an online casino, Blackjack Switch is for you. Blackjack Switch s a fun real-money variant that lets Australian gamblers play two hands at once.
The main difference is that players can SWAP cards between their two blackjack hands to help form better hands.
Blackjack Switch is a version of the casino favourite that you will only find online. Aussie casino players can even use their gambling to access a great real-cash welcome bonus.
Learn how to play at a Blackjack Switch online casino
Find some basic strategy tips and advice
Earn a great welcome bonus worth hundreds of dollars
If a player gets three-of-a-kind during a game, they win 5/1. Therefore, it's important to be conservative about splitting pairs unless it's necessary.