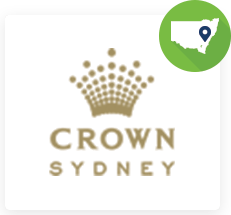 The Crown Sydney Casino and Hotel is still a vision, but a very attractive one to be sure. Planned to be Sydney's first six-star luxury hotel resort, this is destined to be a magnificent facility that's defined by Crown's attention to detail, desire to be the finest, and commitment to providing the ultimate casino experience.
The complex is to be built at Barangaroo South on Sydney Harbour. Offering stunning and inspiring views of Sydney, access to the best possible gaming and entertainment experiences, and first-rate restaurants, bars, and nightclubs, it's projected to be a primary destination for those who desire the complete casino experience.
Presently, the Crown is still navigating amongst the various government agencies that must approve the project. However, once approved it will include a 350-room hotel, featuring suites and luxury apartments, signature restaurants, bars, nightclubs, high-end retail outlets, pool and spa facilities, conference rooms, and VIP gaming facilities.