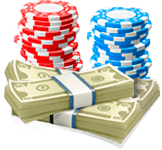 In 2023, online casinos are all about the best real-money gambling.
Whether it's roulette, blackjack or the biggest progressive jackpot pokies, at today's top online sites you can deposit using AUD, GBP, Euros, USD, or even Mongolian Tughriks if you fancy (OK, maybe not Mongolian Tughriks).
But what if your favourite casino sites don't accept Aussie bucks; what do you do then?
Well, finding a top site that doesn't accept Aussie dollars doesn't mean you can't play for real money, but it does mean you might be jumping through a few hoops before you start spinning those pokie reels.
At Casino.com.au, we know who accepts what and who will charge you the least for changing up your hard-earned Aussie cash.