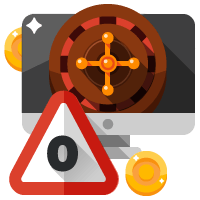 No Zero Roulette is a unique online variation of European Roulette that first appeared at betfair Casino.
The game works like traditional European Roulette apart from having a wheel minus one vital part: the green single-zero slot.
No Zero Roulette is great for gamblers as it removes the green spot and lowers the house edge. Australian real-money gamblers can also access an amazing deposit bonus and put their roulette play to better use. Get involved today and download one of our top casino clients.
Discover how to play this interesting online roulette variant
Find a guide to sensible bets and strategy
Earn the best bonuses when you open an AU account
Because of the lack of the zero, the house edge is reduced. Theoretically, the casino edge is 0 percent